WHEN QUALITY MATTERS
The kitchen is arguably the most important space in the entire home. It's where friends & family gather often to eat, drink & create life-long memories.
Why leave such an important job in the hands of an amateur?
PEACE OF MIND
Our master stonemasons are passionately devoted to their craft - each slab of stone they touch becomes a work of art.
We know you're going to love your Benchmark benchtop. With precision fitting and exceptional join work, you'll think it was made by Da Vinci himself.
More About Benchmark Stonemasons
Stone kitchen benchtop specialists
Bringing the ancient art of stonemasonry into today's modern living spaces to create stunning, beautifully crafted stone benchtops for Sydney kitchens, bathrooms, commercial interiors, retail counters, displays and more.
Benchmark Stonemasons consistently offer great service and the best value for money in Sydney, without compromising on quality. Usually we can supply and install within 5-10 working days, depending on our current capacity (often we can deliver even faster than this).
Get A Free Quote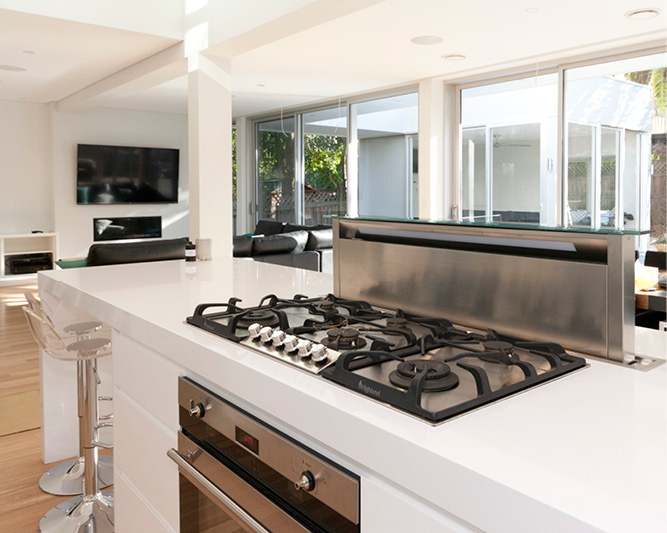 KITCHEN BENCHTOPS
& SPLASHBACKS
It's no wonder the kitchen is considered to be the most important room in the home – it's where friends and family gather to eat, drink and socialise… it's also where we spend quite a lot of our waking life. It makes sense to give your kitchen benchtop the attention it deserves.
BATHROOM VANITY TOPS
& WALL LININGS
Using stone in your bathroom can add value and a touch of modern class to an otherwise average room. All-in-one stone vanity tops and wall linings are ideal for adding stylish practicality & making cleaning easier. (Never clean mouldy grout in your shower ever again!)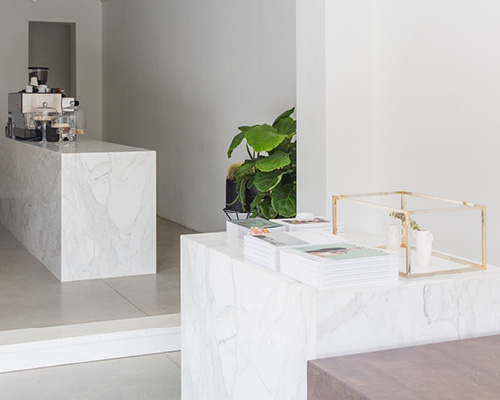 CUSTOM MADE STONE
& NEOLITH (NEW)
Need something different for your stone project? We specialise in custom stone works and book matching. From commercial and retail jobs to indoor fireplace surrounds and outdoor BBQ's. Tell us what you need and we can make it happen.
Create Your Perfect Space
Why Work With Us?
---
Value For Money

We offer a high quality product at a competitive price whilst aiming to save you money wherever possible (e.g. configuring your benchtop to fit on 1 slab instead of 2).

High Volumes, Fast Turnaround

Our factory has been designed to handle large volumes without slowing down production. We can turn your job around in as little as 5-10 working days (sometimes faster, depending on current capacity) and when we check measure, we do it right – so your benchtop fits like a glove.

Designer Quality, Minus The Price Tag

We don't charge more to produce great quality. Our installations are of the highest standard because our stonemasons are passionate about their craft and take great pride in their work. Compare our benchtops to any other and you will agree that our level of quality is great value for money.

Flawless Join Work

Most don't realise that the coloured adhesive used on the join lines is mixed and matched onsite by the installer personally. There is a fine art to this process alone. Mis-matched colours create noticeable join lines but a good stonemason will make them appear to disappear.

Precise Measuring & Planning

This part matters more than you think. Even slightly incorrect measurements can result in time delays and a below average results. Our stonemasons are meticulous about measuring and planning the stone slabs prior to production. This results in a precise fit and finer join lines.

Expert Advice

With over 20 years in the building and construction industry, we can offer priceless advice to save you time, money and unnecessary hassle on your next building or renovation project.

Professional Service & Communication

Most of all, we want our customers to have a positive experience dealing with us. We believe in giving more than just customer satisfaction and we're proud of the service we provide.
---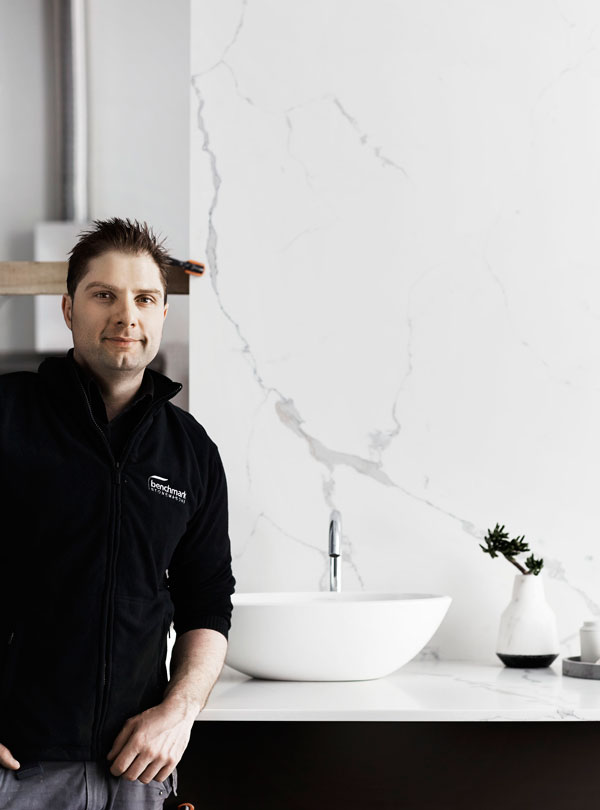 Stone Artisans
Stone masonry is an ancient art that has been around since the very first tools were created by humans. It's fair to say that the true test of quality and beauty in any stone piece, rests in the hands of the stone artisans themselves.
Bringing unrivalled natural talent all the way from Spain, our stonemasons take great pride in their work, treating each benchtop like a piece of art.
Our stone benchtop installations are second to none. In fact, we're willing to bet you've never seen quality like this before. We measure and plan with absolute precision … and with virtually undetectable join lines, our stone benchtops must be seen to be believed.
We work with a wide range of stone materials including natural stone (e.g quartz, marble and granite), reconstituted stone (also known as man-made, engineered or composite stone), and (new) Neolith sintered compact surface.
Some well known importers, manufacturers and brands we work with are Caesarstone, Quantum Quartz (WK Stone), Silestone, Essa Stone, Smart Stone and Neolith (CDK Stone).
Anything is possible with Benchmark Stonemasons
CONTACT US
1-5 Whiting St, Artarmon (02) 9966 4255
Showroom Trading Hours
Monday to Friday 9am–5pm, Saturday 8am–4pm, closed Sundays.
Obligation-Free Quote
Follow the link below, enter your details and one of our estimators will be in touch before you can say "Yabba Dabba Doo"
Still can't find what you're looking for? See our FAQ's here or call us for a chat, we'll be happy to answer your questions.